Around the world freedom of expression has declined
Freedom of expression has fallen to its lowest score since 2009 and now stands at 50/100.
More than half of the world's population are now living in a freedom of expression crisis: that's 3.9 billion people living in countries with a score less than 20/100.
The Global Expression Report is ARTICLE 19's most comprehensive, data-based report that tracks freedom of expression across the world.
The GxR metric reflects not just the rights of journalists, media, and activists, but how much space there is for all of us – as individuals and communities to access information and communicate freely.
We look at how free each and every person is to post online, to march, to teach, and to access the information needed to participate in society and hold those with power to account.
The metric looks at 25 indicators across 161 countries, to create an overall freedom of expression score for every country on a scale of 1 to 100. Based on the score, we place countries into one of five categories.
The number of countries and the percentage of the global population in each GxR category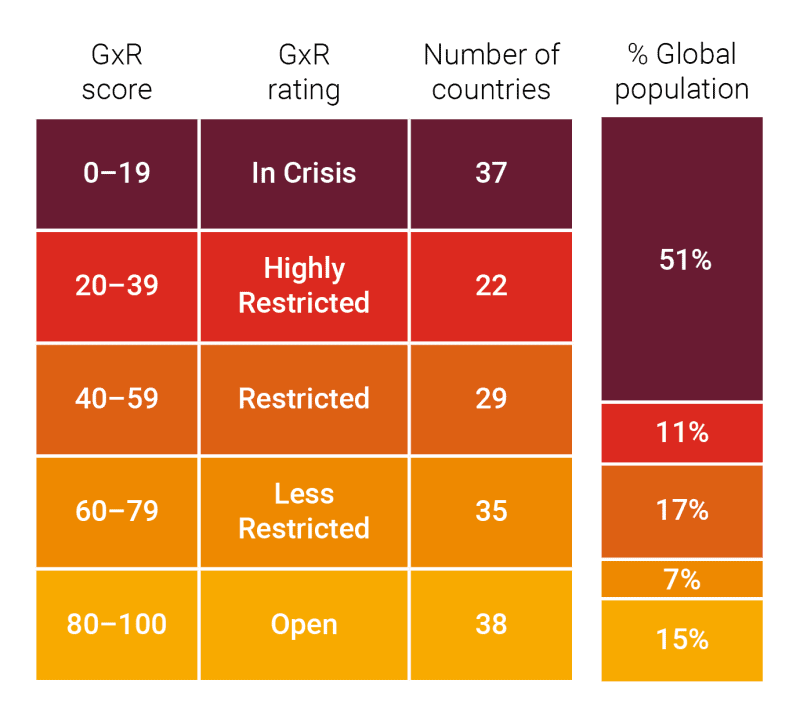 How does your country score?
Which countries rank the highest and the lowest?
The world's biggest and most influential countries are in decline according to GxR measures – China, India, Turkey, Russia, Iran and Bangladesh are all rated in crisis.
These countries wield power and influence in their regions and at international fora.
Brazil is seeing a steep and accelerating decline, while the USA is creating an increasingly hostile environment for communicators and activists.
Conversely, during the last 10 years, pro-democracy mass protests in 22 countries have been followed by substantial democratisation.
Armenia, The Gambia, Sri Lanka, and Tunisia are the four countries achieving the greatest democratic gains.
Countries with the biggest advances in freedom of expression scores between 2009-2019
Countries with significant advances in GxR score over one, five, and 10-year periods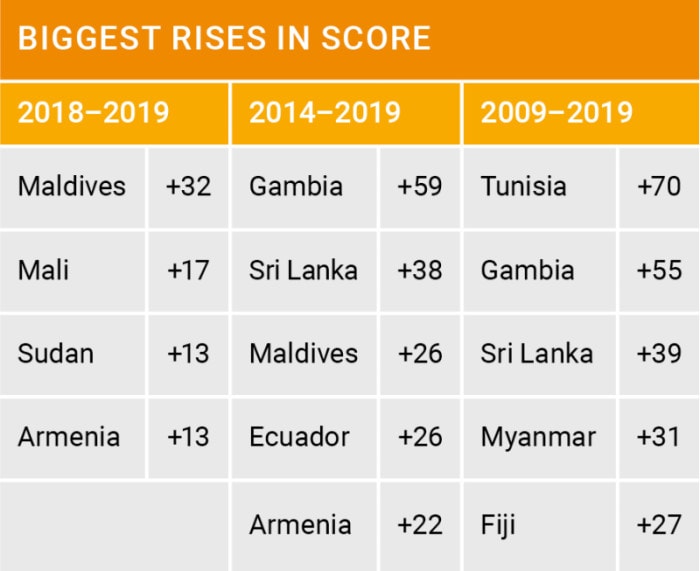 Countries with the biggest declines in freedom of expression scores between 2009-2019
Countries with significant declines in GxR score over one, five, and 10-year periods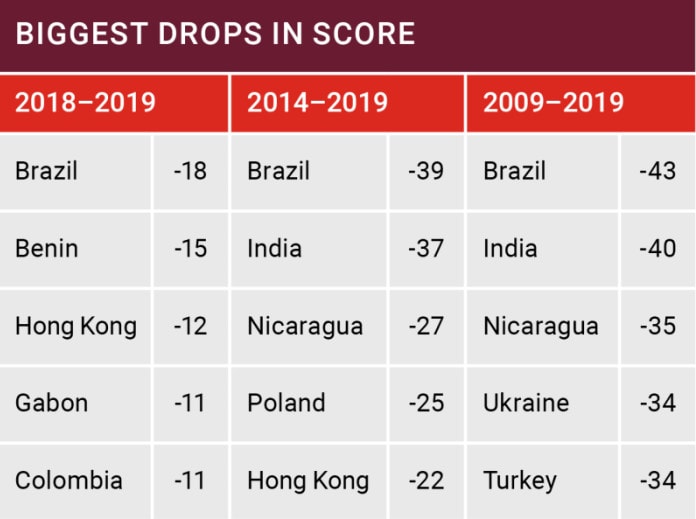 How has such a decline in freedom of expression come to pass?
Since 2009, the world has been marching towards authoritarian and autocratic ways of ruling.
Many leaders have been abusing their power, cementing exclusionary politics, attacking journalists, and chipping away at democratic institutions.
2019 saw a 51% rise in the number of demonstrations from 2018. People everywhere have been standing up and speaking out to defend their rights and freedoms.
But authorities are stigmatising protestors and criminalising protest. In many cases, governments use violence to suppress these mass movements, often to maim and kill.
971 journalists have been killed since 2009. At least 250 journalists were behind bars at the end of 2019.
304 human rights defenders were killed in 2019. 40% of those worked on land, indigenous peoples', and environmental rights, with a huge concentration of violence in Latin America.
Attempts to silence communicators and media outlets with invasive surveillance, vexatious lawsuits and judicial harassment, are growing. Corporations are some of the biggest abusers of such tactics.
And governments routinely misuse narratives of 'national security' to silence dissent. Just as many are using the pandemic as an excuse to avoid being held accountable.
Digital freedoms are also sliding
Although the Internet has been hailed for democratising information, the data tells a different story. The number of viewpoints online has increased but so has a toxic climate of polarisation. And misinformation has exploded.
The concentration of power and lack of accountability mean that BigTech can censor the information we see online without regard for human rights. While discussions about social media regulation have begun, we still have a long way to go.
And governments are turning to extreme tactics to limit the access to information, particularly during protest events and elections. In 2019 alone, there were 213 Internet shutdowns – disrupting a total of 1706 days of Internet access across 33 countries.
These actions are creating a climate of increasing fear and repression worldwide.
Democratic indicators tied most closely to overall changes in freedom of expression scores over one, five and ten year periods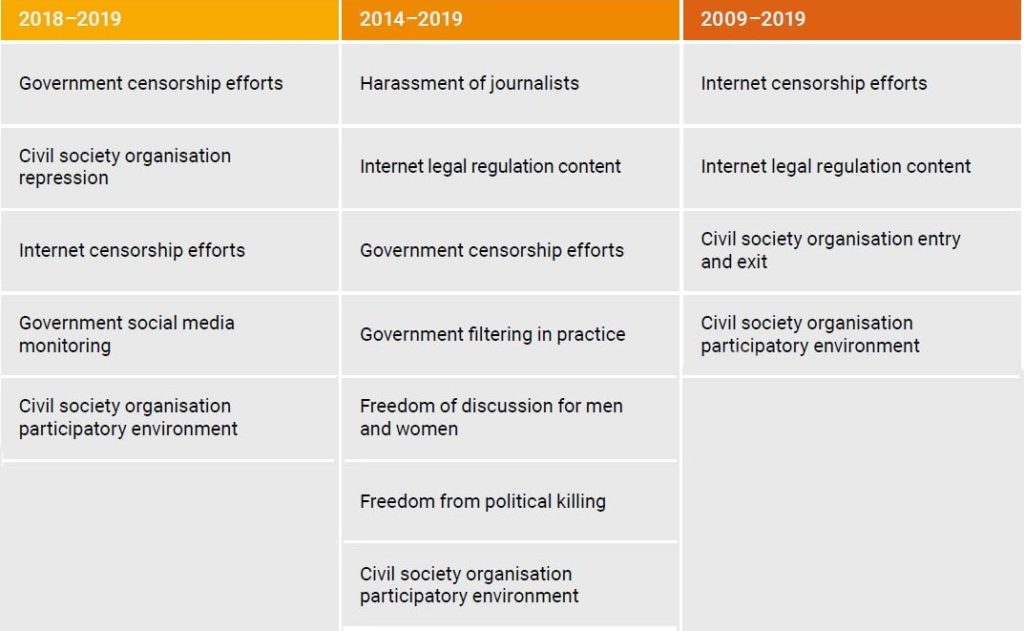 Why does freedom of expression matter?
Without the freedom to speak and our Right to Know, we would be unable to demand basic rights like:
Clean air
Water and food
Fair and just conditions of work
An adequate standard of living
The freedom to love
The highest attainable standard of health
And when we are prevented from scrutinising those who abuse their power, we can no longer hold them accountable.
Losing our freedom of expression means we can no longer stand up for ourselves or defend those who face brutal treatment.
The report shows that long-term declines in freedom of expression scores tend to be in countries with democratically elected leaders who have used their tenure to concentrate power and limit oversight.
But how do autocracies form?
Government abuse of power and the slide toward autocracy begins by gaining control of civil society and media. They muzzle the watchdogs at first, chip away at democratic institutions, and ultimately destroy the independence of elections.
The data in countries like Hungary, Turkey, Poland, Serbia, Nicaragua, Brazil, and India consistently show us this pattern.
The data also shows that when we see declines in Freedom of Expression, attacks on democratic institutions and on elections follow.
Top 10 and bottom 10 country rankings for freedom of expression in 2019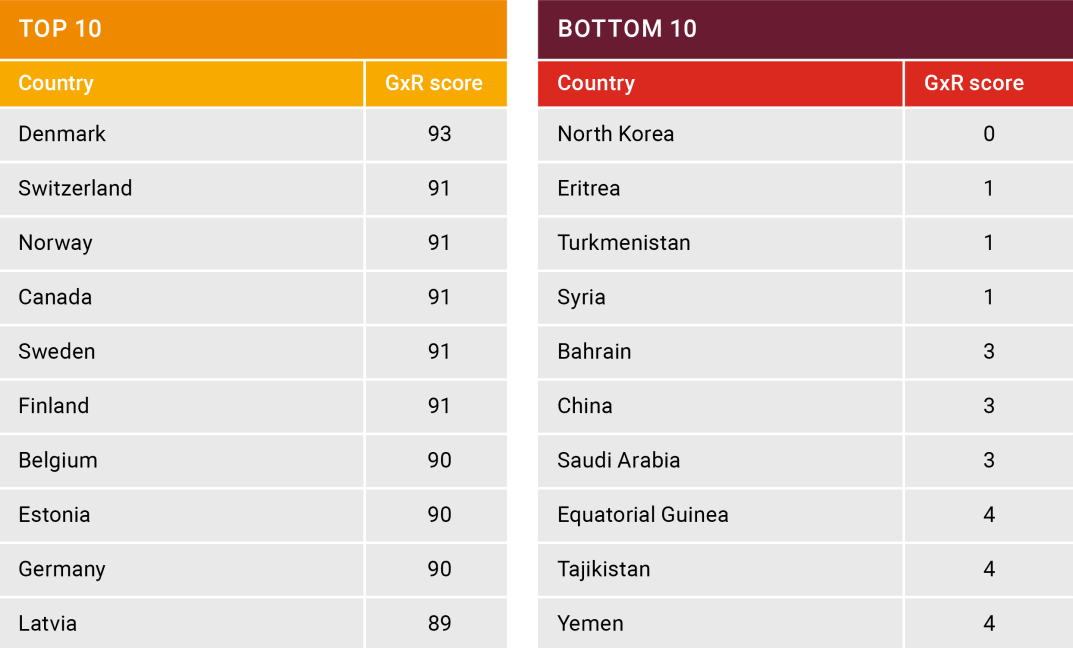 So, what can we do to improve this?
We can demand our right to speak and to be heard by our governments.
We must challenge profit-driven corporations, ensuring we hold them to account.
And, through protest and civic engagement, online and offline, we can redress the corruption and inequality that are holding us hostage to our governments.
We can protect freedom of expression by:
Strengthening the media
Free, pluralistic, and diverse media landscapes enable media to be critical of public and private powers, which, in turn, help people remain informed and engaged in society.
Protesting
Protests are a force against autocracy.
Demonstrations in public spaces translates into direct reform and institution building. Protest can force societies open, compel elites and powerholders to listen, and reform the relationship between people and government entirely.
2019 was a year of impressive street demonstrations, creative tactics, and widespread discontent with the status quo. Climate protests pushed more than 25 governments to declare climate emergencies
Protests achieve results.
Implementing Social Media Councils

These voluntary, compliance models for the oversight of content moderation are based on international human rights law. They are a key solution to distributing power online.
Together with artificial intelligence, blockchain and competition law, Social Media Councils form a holistic approach to protecting the voices of those most vulnerable. This includes women, people who are LGBTQI+ and minorities.
Using the Right to Information

The right to information gives every person the right to obtain information, documents and data from public bodies and others, without having to give reason.
It enables engaged participation, fosters sustainable development, improves economic performance, and makes authorities accountable.
121 countries around the world have adopted comprehensive RTI laws or national policies. This means that 90% of the world's population lives in a country with a RTI law or policy.
We must use the Right to Information and demand that our governments practice radical transparency.
"It's time our governments listen. In order to re-balance the power relationship between individuals, communities and state, we need to reclaim the Right to Speak and Right to Know"
How free are you to access information, communicate freely and speak up for those who are vulnerable?