Press release
Russia: ARTICLE 19 condemns guilty verdict in Pussy Riot case
ARTICLE 19
17 Aug 2012
Today at 15h Moscow time - and as ARTICLE 19 protested outside Russia's London Embassy - a verdict of guilty was announced in the trial against Nadezhda Tolokonnikova, Maria Alekhina and Yekaterina Samutsevich, three members of the punk feminist group Pussy Riot. Tolokonnikova, Alekhina and Samutsevich were charged under Article 213(2) of the Criminal Code, which covers hooliganism.
"ARTICLE 19 believes that this trial has been politically motivated, and we condemn the verdict," said Dr Agnes Callamard, ARTICLE 19 Executive Director.
"The manner in which the three members of Pussy Riot protested should be seen in the context of the limited opportunity for freedom of expression and freedom of assembly in Russia. In such a country where there is no free media and numerous bureaucratic obstacles for public protest, people can only rely on dramatic forms of expression to draw public attention. Protesters worldwide often rely on similar dramatic actions to draw attention to their causes. If they violate a law, they receive fines which are a form of punishment that is far less restrictive on the right to freedom of expression"
"ARTICLE 19 believes this protest – provocative in some people's eyes – did not represent nor cause a serious public danger and therefore the Pussy Riot members should not have been prosecuted and tried by criminal courts. The Russian Code of Administrative Offences provides for small fines for violations of public order, such as in this case. Any custodial sentence will be a disproportionate restriction to the right to freedom of expression of the members of Pussy Riot. Public order can easily be protected in this case without the deprivation of three women's liberty."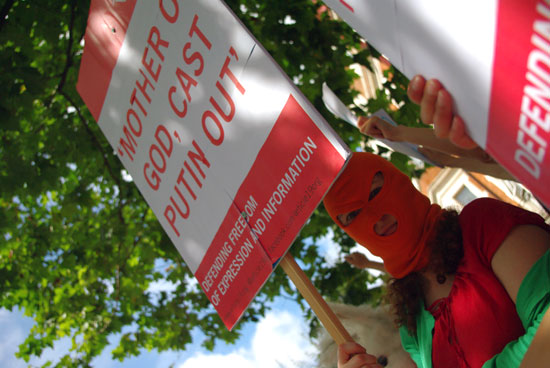 Background Information
Pussy Riot is a collective feminist group including visual artists and musicians which formed in October 2011. They have held a series of demonstrations and stunts as part of the protests against President Putin in the lead up to his re-election in March. They wear brightly coloured balaclavas to ensure a collective message rather than as a set of individuals.
What did they do?
On the 21 Feburary 2012, Nadezhda Tolokonnikova 23, Maria Alekhina, 24, and Yekaterina Samutsevich, 29, along with other members of their collective known as Pussy Riot entered the Cathedral of Christ the Saviour, a Russian orthodox church in Moscow. Wearing brightly coloured clothes and balaclavas in their trademark style, the three women crossed themselves and bowed down on the altar before starting to perform their song, including the lyrics 'Mother of God, Cast Putin Out'. Footage of the girls dancing and singing inside the church was then used in a video to accompany their song, which they described as a 'punk prayer', posted on their website the same day.
What were they charged with?
Tolokonnikova, Alekhina and Samutsevich were subsequently arrested in March and charged under Russia's Criminal Code of 1996, Article 213(2) of the Criminal Code (hooliganism on grounds of religious hatred or enmity against a social group, planned by an organised group). The maximum penalty for hooliganism under the Criminal Code is up to seven years imprisonment, but other non-custodial punishments include heavy fines or community service.
What happened in the trial?
Tolokonnikova, Alekhina and Samutsevich were all held in pre-trial detention for almost five months until their trial started in Khamovnichesky District Court on 30 July. Appeals by the defence against pre-trial detention were rejected. On 20 July 2012, in a closed hearing the three women's initial pre-trial detention was extended by another 10 months.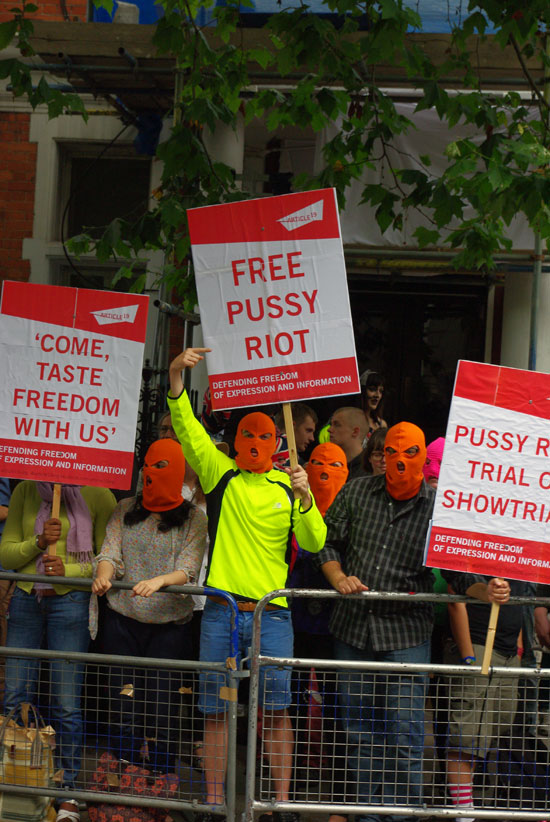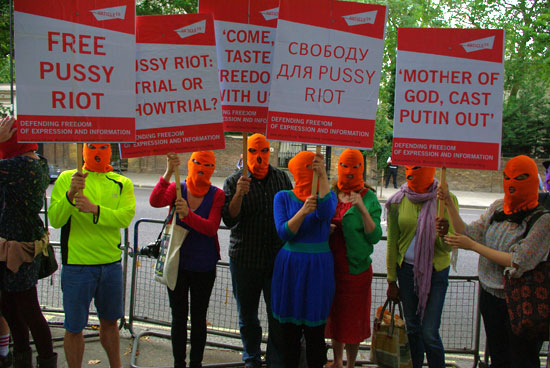 Receive immediate or weekly updates on the right to freedom of expression
Subscribe
#speakup4egypt: we urge un high commissioner to condemn egypt's crackdown ...
@article19org