Eastern Africa
Henry O Maina
Director, ARTICLE 19 Eastern Africa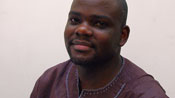 Henry worked in the human rights sector for 10 years before coming to ARTICLE 19 in 2008, specialising in criminal justice and human rights education at the Legal Resources Foundation. He has expertise in advocacy and governance and is skilled in programme management and fundraising. Henry is a Chevening Scholar and holds an LLM Degree in International Development Law and Human Rights (Warwick). A trained teacher and journalist he also holds a Bachelor of Education (Linguistics and Literature) degree (Moi University) and a Post-Graduate Diploma in Mass Communication (University of Nairobi). He is an active member of the Freedom of Information (FOI) and freedom of expression community of practitioners in Africa and is part of a core group of FOI practitioners and experts who developed Africa's Model Law on Access to Information.
Sandra Waswa
Senior Programme Officer, Transparency
Sandra M Waswa is a human rights lawyer and holds an LLB in Law from the University of Nairobi. She has worked variously in the human rights field and has previously worked on women and children's rights issues in Kenya. She has extensive experience in coordinating, planning and implementing projects within human rights and development contexts. At ARTICLE 19 Eastern Africa she heads transparency initiatives and has implemented projects with regard to transparency in relation to internal displacement, health, water and the rights of persons with disabilities.
Demas Kiprono
Senior Programme Officer, Civic Space
Demas Kiprono is a human rights lawyer and holds an LLB in Law from Moi University. Prior to ARTICLE 19, he worked at the Kenya National Commission on Human Rights as a litigator, investigator and programmes officer. He has an exemplary track record in strategic human rights litigation on various landmark issues such as rights of intersex children, rights of parents and children born out of surrogacy agreements, freedom of expression, and access to information, digital rights, national security, libel and has represented families of victims of extra judicial killings. He is part of the team that litigated the Security Laws (Amendment) Act (SLAA) petition in 2014, a law that threatened to roll back a plethora human rights gains in Kenya under the guise of fighting terror.
He is a member of the Law Society of Kenya (LSK), the East African Law Society and the Kenyan Section of the International Commission of Jurists (ICJ Kenya). He is also a certified international criminal investigator trained by the International Institute for Criminal Investigations (IICI) at The Hague, Netherlands. Demas is a regular Op-Ed columnist in Kenyan Newspapers such as 'Daily Nation', 'Standard' and 'The Star'. He also contributes to monthly magazines such as 'Nairobi Law Monthly' and 'Africa Law Digest'.
Ephraim Kenyanito
Programme Officer, Digital
Ephraim leads ARTICLE 19 Eastern Africa's work relating to digital rights, internet governance and the intersection of human rights and technology. He has worked over the past 5 years in the Human Rights, Media, Intellectual Property and ICT Law sector in Africa researching the connection between technology and international development. He is an affiliate at the Internet Policy Observatory (IPO) (at the Annenberg School for Communication, University of Pennsylvania) and a member of the UN Secretary General's Multi-Stakeholder Advisory Group on Internet Governance; the Freedom Online Coalition's Digital Development and Openness Working Group; the European Commission Global Internet Policy Observatory's (GIPO) Advisory Group and the Advisory Group for Code Red (a global initiative to accelerate reform of security organisations). Previously, Ephraim worked on democratic governance, international development and transparency with a diverse range of organizations including Access Now, Transparency International, Index On Censorship, MercyCorps and the Centre for Law and Research International, as well as the East African Community Secretariat and the Kenyan Ministry of Foreign Affairs & International Trade. He also served as an Independent Expert of the Implementation Advisory Group for Competition, Consumer Trust and Consumer Choice (IAG-CCT) at ICANN among other working groups. He holds an LLB (with Honours) and has previous training in internet policy and media law from University of Oxford and University of Pennsylvania. His LL.B thesis examined the Relationship Between Domain Names and Geographical Indications with a special focus on .wine and .vin applications.
Catherine Anite
Senior Programme Officer, Safety and Protection
Catherine Anite received her LLB in law from Makerere University in 2009, and a post graduate diploma in legal practice from the Law Development Centre, Kampala in 2010. Her focus as a human rights advocate is in freedom of expression and freedom of the media. From 2012 to 2015 she was Chief Legal Officer at the Human Rights Network for Journalists in Uganda, where she represented journalists, pursued policy analysis, and spearheaded advocacy campaigns on behalf of journalists and other media practitioners. She was selected by Advocats Sans Frontiers and the East Afrcan Law Society to participate in a human rights defenders project in East Africa and the Great Lakes Region, and served as a senior judge at the International Media Law Moot Court at the University of Oxford. In 2014 she received a Mandela Washington Fellowship from the US State Department.
Cherly Akinyi
Cheryl is a lawyer who, prior
to joining ARTICLE 19, worked with the Electoral Institute for Sustainable Democracy in Africa (EISA), where she directly engaged political parties in Kenya as well as the Office of the Registrar of Political parties on various thematic areas around strengthening internal political parties frameworks. She also engaged in strengthening the Electoral Dispute resolution process through key actors such as the Judiciary, Political Parties Dispute Tribunal and the IEBC,
and in critical processes of the legislative drafting of Electoral Laws amendments ahead of the 2017 general elections particularly Elections Laws (Amendment) Act 2016, Political Parties Amendment Act 2016 as well as Campaign Financing regulations. She has previously worked at the United Nations High Commissioner for Refugees (UNHCR) as an eligibility officer assisting victims of torture and post-conflict survivors in light of Refugee Laws with the view of promoting and defending human rights. She was nested at the Federation of Women Lawyers (FIDA Kenya) Secretariat under the Women and Governance unit where her passion for gender justice, governance and human rights issues was nurtured.
Richard Anyega
Finance and Admin
Richard is a qualified accountant and will be completing his MBA in Strategic Management at the end of 2017. He also has over 16 years' experience in managing administration, finance, procurement, human resources, IT and security functions at international humanitarian organizations. He has substantial experience managing USG, USAID, USAID/OFDA, USAID/OTI, DfID, UNCERF, EC and ECHO funded projects. He has been involved in the financial risk analysis and capacity assessments for CSOs, NGO's and CBO's.
Tracey Ishmael
Communications and Administration Officer
Tracey holds a Bachelor of Arts Communication (BAC) with a Double Major in Mass Communication and Development Communication from St. Paul's University Limuru. Prior to ARTICLE 19, she worked at Children Legal Action Network (CLAN) as a Social work, Rapporteur, mediator, counseling and communications officer, she also holds a Certificate In Mass Communication, from the Technical University of Mombasa.
Churchill Ongere
Programme Assistant, Civic space
Churchill works on equality and non-discrimination, participation, media reforms, and compliance at ARTICLE 19 Eastern Africa. He hails and writes on the arts and academic spaces as key defence zones for liberties.
Receive immediate or weekly updates on the right to freedom of expression
Subscribe
rt @article19un: on monday #unga72 will consider a new resolution on the s...
@article19org