Africa programme
Henry Omusundi Maina
Director, ARTICLE 19 East & Horn of Africa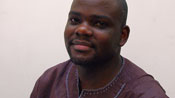 Henry worked in the human rights sector for 10 years before coming to ARTICLE 19 in 2008, specialising in criminal justice and human rights education at the Legal Resources Foundation. He also has expertise in advocacy and governance. Henry is skilled in programme management and fundraising, and has a masters degree in international development, law and human rights from Warwick University in the UK.
Fatou Jagne
Director, ARTICLE 19 Sénégal/West Africa
Fatou joined ARTICLE 19 in 2002 and worked in Johannesburg until moving to Senegal in 2004. Fatou was a fellow at the Institute for Space and Communication Law (IDETCOM) in Toulouse, France from 1997 to 1998. From 1999 to 2002, she was part of the first legal team of the Institute for Human Rights and Development in Africa and started the first compilation of decisions of the African Commission on Human and Peoples Rights. Fatou is a co-founder of the Coalition of Human Rights Defenders and the Foundation for Legal Aid Research and Empowerment in the Gambia and holds a Bachelor Degree in civil Law and a Master (LL.M) in Communication Law from the University of Social Sciences Toulouse 1 in France and is currently undertaking a PhD in International Law.
Charles Vieira Sanches
ARTICLE 19 Sénégal/West Africa Senior Programme Officer
Charles L. Vieira Sanches has a degree in public law, master's in international relations and an M.A. in Gender and Peacebuilding. After being active in human rights for a variety of civil society organisations, Charles worked for 6 years at the International Committee of the Red Cross as a programme officer, where he developed an expertise in international humanitarian law and worked with a range of academics, political authorities and civil society.
He is the author of an essay titled, "Migrations internationales et Droits de l'Homme: Approche systémique sur les protections accordées aux migrants", Editions Universitaires Européennes, and a manual on education in humanitarian law.
Khadidiatou Diaw
ARTICLE 19 Sénégal/West Africa Programme Officer
Khadidiatou joined ARTICLE 19 in April 2011 as an intern and then Programme Assistant since October 2011. Prior to joining ARTICLE 19 Khadidiatou interned for the French Red cross. She holds a master's degree in Diplomacy and strategic negotiations from the University Paris XI ; Faculty Jean Monnet, France; and Maitrise (master's degree) in Public Law, specialising in Public administration from the University Cheikh Anta Diop, Dakar Senegal. Khadidiatou has developed expertise on Access to Information and assisted in building partnerships in Senegal and has coordinated the work of the national coalition on access to information. She is currently working on supporting women's political participation in Senegal and sector application of access to information.
Khady Diallo
ARTICLE 19 Sénégal/West Africa Senior Programme Assistant
Khady Diallo joins ARTICLE 19 in October 2013; she holds a bachelor's degree in International Affairs and a master's in Management of Development Projects from University Paris XI.
She works on Female Genital Mutilation (FGM) and on Street Children with UNICEF and on Egypt UPR under the Convention on the Rights of the Child in 2008.
With Osiwa Senegal, she was involved in the Public Interest Litigation project with West African Bar associations. She worked on capacity building and trainings for Senegal Bar members on project management skills, meaning designing, implementing, budgeting and monitoring of project. She also assist in implementing and monitoring of others running projects under the supervision of the Special Initiatives Manager.
During the past 2 years she worked with the International Food Policy Research Institute (IFPRI), as Program Assistant and Executive Assistant, and supported in implementation and monitoring of projects and research programmes.
Senior Programme Officer - Freedom of Expression*
ARTICLE 19 East & Horn of Africa
Sandra Musoga
ARTICLE 19 East & Horn of Africa Senior Programme Officer, Access to Information
Coumba Gueye
ARTICLE 19 Sénégal/West Africa Office Administrator
Office Assistant*
ARTICLE 19 Sénégal/West Africa
Administrative Assistant*
ARTICLE 19 East & Horn of Africa
*Names witheld for security.
Receive immediate or weekly updates on the right to freedom of expression
Subscribe
#iranelections2017: time to make rhetoric reality for free expression onli...
@article19org