Right to Know Day 2016: A quarter of a millennium of the right to information - but how far have we come?
Dave Banisar
28 Sep 2016
0 comments
This year marks the 250th anniversary of the right to information. At this point, it is useful to look back and reflect on progress over the last quarter of a millennium. If you are an access to info fanatic (or just a fan), you will know that the first law was adopted in 1766 the Kingdom of Sweden, but only lasted for a few years due to political instability. Sweden adopted a comprehensive law in 1949, followed by Finland in 1951. But the right was so under recognized that Swedish historian and politician Nils Herlitz wrote in 1958 that when speaking about it to foreign audiences, people either could not understand what he was talking about or thought that he was "mad".
Today, 105 countries across the world have adopted comprehensive right to information (RTI) acts, covering 88 percent of the world's population. Another 6 countries, including China, have adopted presidential or ministerial orders which give the same rights, though usually not as effectively. Another 19 self-governing jurisdictions including Taiwan, Kosovo, the Cook Islands, and Pitcairn Islands, which are not members of the UN General Assembly, have also adopted laws or policies. Around 40 countries have bills or initiatives pending, or have considered them in the last few years.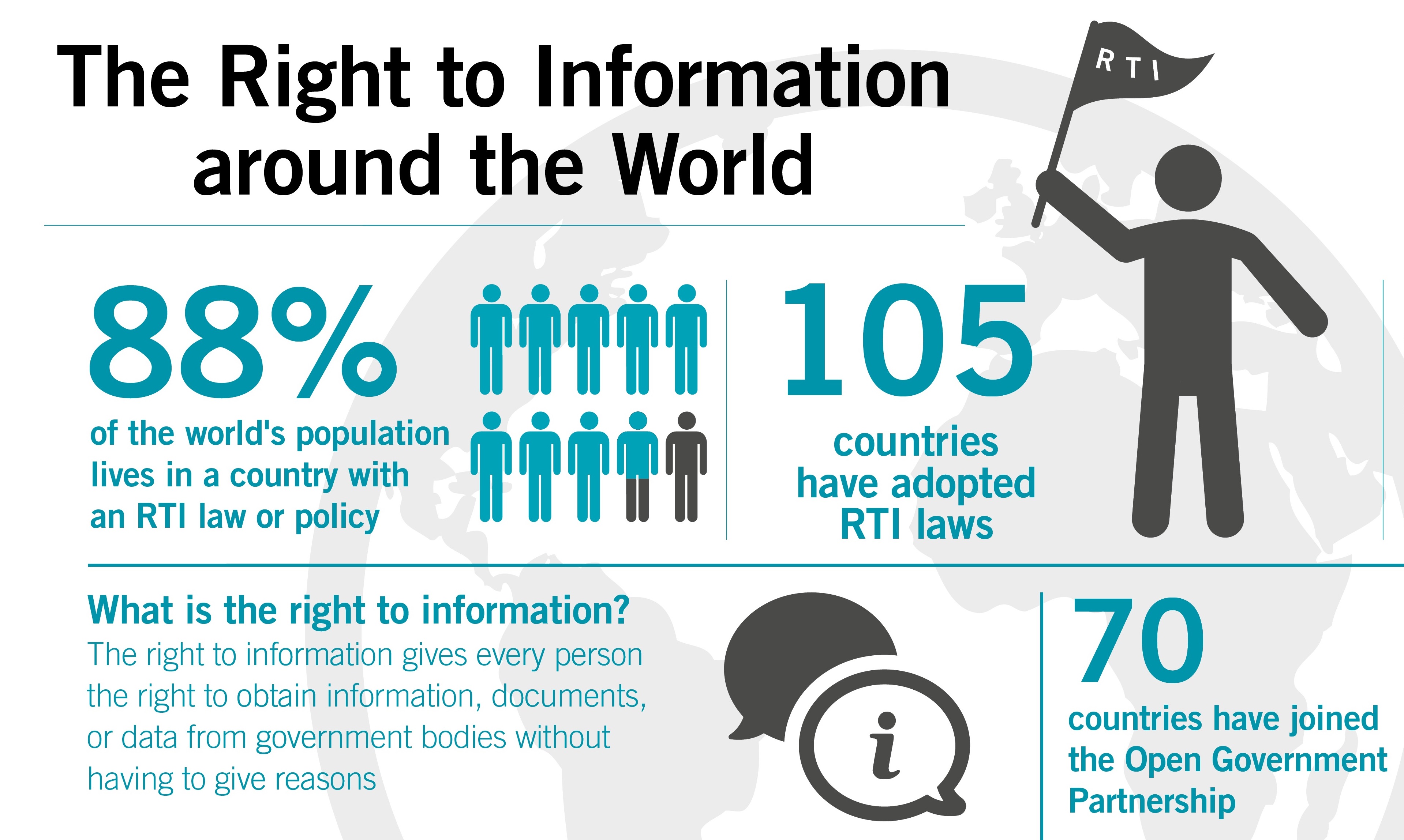 If anything, the interest has increased in the past year. Kenya, Vietnam, Sri Lanka, Togo, Argentina, and Tunisia have all adopted laws, with the last two countries replacing not-so-effective regulations with stronger laws while the controversial new president of the Philippines issued an Executive Order on freedom of information within weeks of his election after years of broken promises from his predecessors. The US, amended the Freedom of Information Act with many improvements long demanded by civil society. Tanzania, Morocco and the Democratic Republic of Congo are in the final stages of adoption. It seems possible, if not likely, that in a few years RTI laws will be as commonplace (and non-controversial) in national statute books as administrative procedure and environmental protection acts. The challenge, as with those laws, will be to make them effective.
Developing recognition of the right to information has not been limited to national efforts: there has been substantial progress in international law on RTI. Following the success of civil society and certain governments in getting RTI specifically recognized in the Sustainable Development Goals in 2015, the UN Statistics Committee agreed to include an indicator on the right to information in 2016. As a first step, countries will be evaluated on the basis of whether they have adopted a RTI law, policy or constitutional provision. ARTICLE 19 and other groups plan to keep up the pressure to move beyond simple statistics, onto evaluating the quality of the laws and eventually the effectiveness of their implementation.
A significant gap in being able to meaningfully evaluate has been the lack of international standards on RTI. While the African Union, Organisation of American States and Council of Europe have all issued detailed standards, model laws and other instruments, the UN has been fairly silent on the issue beyond a few reports from Special Rapporteurs. Now, for the first time, the Human Rights Council is considering a resolution to set out standards on the right to information, and Mexico and Norway organized a public letter signed by over 40 countries supporting it. UNESCO is now recognizing today, 28 September, as the somewhat clunkly-named "International Day for the Universal Access to Information".
Progress is also happening in important sectors. In Latin America, negotiations on a regional convention on access to environmental information, public participation and access to justice have been endorsed by 22 countries and are expected to be nearly finished by the end of the year. The worlds leaders meeting in Paris for the climate negotiations made transparency a key aspect of the new agreement to reduce carbon. The UN Environmental Programme adopted a decent new internal policy on access to information that will hopefully serve as a model for other UN bodies.
There has also been continued growth in multi-stakeholder initiatives designed to bring together governments, the public and civil society, and companies to come up with solutions to improve transparency. The Open Government Partnership now has 70 member countries, with countries making thousands of commitments on transparency. Unfortunately, few have related to the right to information. The Extractive Industries Transparency Initiative has 51 member states. As an indicator of the initiatives growing beyond a focus on simple measures, both sanctioned Azerbaijan in the past year for their continued crackdown on civil society groups.
It would be nice to say that the future is only bright for the right to information, but anyone involved in the field of human rights knows that there will always be ups and downs as governments and priorities change, global crises occur, and new technologies impact on society. But the need for people to know what governments and other institutions are doing in their name is not going to go away. RTI is crucial for community groups across the world to enable their rights to water, a clean environment and health. So Happy 250, enjoy your cake, and make an information request!
Find more on
Receive immediate or weekly updates on the right to freedom of expression
Subscribe
rt @osfarabregion: happy #righttoknowday #tunisia's new information law ...
@freespeechdaily