UN #HRC32: Free Expression Round-Up
Andrew Smith
11 Jul 2016
0 comments
As the dust settles after the 32nd Session of the UN Human Rights Council (#HRC32), ARTICLE 19 reflects on how, in spite of challenges, the session produced several positive results for freedom of expression.
The HRC's tenth anniversary celebrations opened the session, with a spotlight on how it can better address the world's most pressing human rights violations. The concluding days put into sharp relief the institution's challenges: a barrage of hostile amendments against key resolutions on freedom of expression, and attempts to shut down debate on the very universality of human rights. Procedural manoeuvres meant the session was formally suspended on 1 July, to resume on 8 July with the appointment of mandate holders and closing statements.
Ahead of the 32nd Session, we set out what was at stake for freedom of expression, and addressed some of the institutional challenges the HRC must confront as it celebrates its tenth birthday.
The High Commissioner's global update warned "hate is being mainstreamed" and that international cooperation was being undermined. The High Commissioner called out "clampdowns on public freedoms, and crackdowns on civil society activists and human rights defenders" including in Azerbaijan, Bahrain, Egypt, and Ukraine. In response, we urged states to do more to close the gap between the HRC standards they set and national realities for freedom of expression.
Against what appear to be increasing challenges to freedom of expression and the international rules-based-system for safeguarding human rights, there were several victories still worth celebrating at #HRC32.
Meeting with the High Commissioner later in the session, we discussed ways to address the implementation gap, including by increasing collaboration between ARTICLE 19's nine regional offices and OHCHR.
Protecting freedom of expression online
The adoption of the resolution on "the promotion, protection and enjoyment of human rights on the Internet" by consensus was a significant achievement.
With the joint leadership of Brazil, Nigeria, Sweden, Tunisia, Turkey, and the United States of America, it reaffirmed that "the same rights that people have offline must also be protected online." It is the third such resolution the HRC has adopted since 2012.
Importantly, the resolution goes further than its predecessors to commit states to ensure accountability for human rights violations and abuses committed against persons for expressing themselves online, including for murders and arbitrary detentions. It also calls on states to desist and refrain from "measures to intentionally prevent or disrupt access to or dissemination of information online". These standards, which ARTICLE 19 advocated for in the resolution, received unanimous support from states.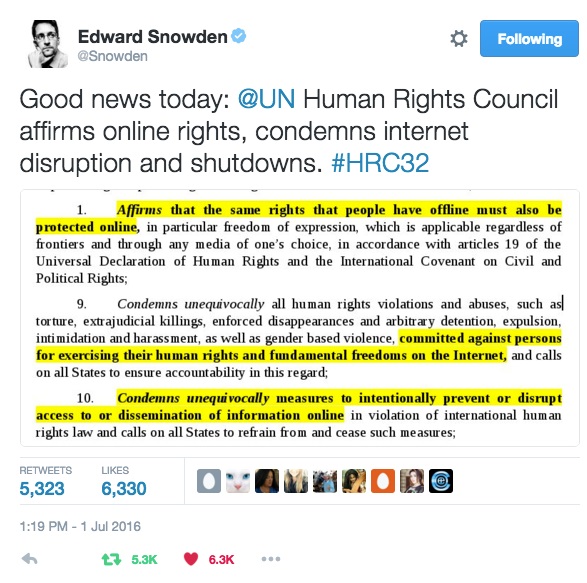 The resolution also recognises that a global and open Internet is crucial to achieving the Agenda 2030 Sustainable Development Goals, and calls for a human rights based approach to provide and expand Internet access. The resolutions calls for a report from the High Commissioner on "ways to bridge the gender digital divide from a human rights perspective", to be presented at the HRC's 35th Session in 2017.
Read more:
The resolution wasn't without controversy. Russia and China, later joined by Belarus and Iran, tabled four hostile amendments to weaken the resolution or shift its focus towards restrictions on freedom of expression. ARTICLE 19 coordinated a letter of more than 80 organisations opposing the amendments.
While one amendment was withdrawn, three were rejected by vote. Two of the amendments that went to a vote attacked core freedom of expression language in the resolution, and removed reference to the importance of ensuring a "human rights based approach" to provide and expand Internet access. It was disappointing that democracies such as India, South Africa, and Indonesia supported these amendments. A fourth amendment to shift the focus of the resolution to addressing "hate speech" online, and thus to focus on restrictions to freedom of expression, was also rejected.
Though not binding, the consensus adoption of the resolution makes it an authoritative international commitment from States to protect human rights online. It will therefore be crucial to our work to challenge laws that impose illegitimate limitations on freedom of expression online, to protect bloggers from attack, and to ensure that human rights principles underpin the Internet's development.
Role of the Private Sector in safeguarding online freedoms
The UN Special Rapporteur on freedom of opinion and expression, David Kaye, presented a report to the HRC calling upon states and the private sector to protect and promote freedom of expression online. He also detailed his recent country visits to Japan and Tajikistan, and announced a forthcoming visit to Turkey.
Read more:
The report maps the diverse state, private and regulatory actors that impact the enjoyment of freedom of expression online, and sets out key questions regarding their respective duties and responsibilities. This goes beyond the social media giants most often in the headlines, and includes telcos, hardware and software developers, host and search companies, and technical standard setting bodies.
It also maps challenges to freedom of expression online where private actors face increasing pressures, including content regulation, consideration of human rights by technical standard setting organisations, surveillance, transparency, and access to effective remedies.
Through the interactive dialogue with States, the Special Rapporteur emphasised that the initial report seeks to ask more questions than it answers, with broad consultations planned over coming years to ensure future reports provide answers and give detailed guidance to all concerned actors. He emphasised that standard-setting initiatives by civil society were already leading the way in this regard, citing the Manila Principles on Intermediary Liability as an example. The role of technical bodies was also stressed, citing processes such as those at ICANN, where we have successfully advocated for greater commitments to human rights.
At a side event co-hosted by ARTICLE 19, Yahoo shared how it is mainstreaming human rights considerations to its operations, and how the Global Network Initiative has brought together various stakeholders to address these issues. Experiences in Russia and Malaysia shared on the panel underscored why the Special Rapporteur's new project is so timely. Concluding the event, the Special Rapporteur made an appeal to the HRC to reflect deeply on these issues, and to be "more granular" in setting progressive standards on freedom of expression in the digital age, taking into account the role of the private sector. As outlined in the analysis linked above, the present resolution is a positive step in the right direction, but there is much further still to go.
Protecting civil society space
A resolution on "civil society space" was adopted by vote, with overwhelming support from Council members. It is an important response to the shrinking of civil society space globally, as reflected by the increasing restrictions on expression, assembly, association and participation rights.
The resolution provides guidance to States on ensuring a safe and enabling environment for civil society, based on "five essential ingredients" identified in an important report by the High Commissioner for Human Rights on the shrinking space. This includes:
Ensure that civil society actors can seek, secure and use resources;
Maintain accessible domestic procedures for the establishment or registration of organisations;
Ensure that civil society can input into potential implications of legislation when it is being developed, debated, implemented or reviewed;
Adopt clear laws and policies providing for effective disclosure of information;
Ensure access to justice, and accountability, and to end impunity for human rights violations and abuses against civil society actors.
The resolution encourages the HRC to seek to address the implementation of the resolution through its existing mechanisms, in particular through general debate items and the universal periodic review. It also requests the High Commissioner to report in 2018 on best practices for ensuring civil society involvement with regional and international organisations, including the United Nations.
Together with more than 200 other organisations, we called on HRC states to support the resolution, and reject the fifteen hostile amendments to it tabled by Russia and China. These amendments attacked the heart of the resolution, deleting language on the various threats facing civil society, and striking out extensive provisions to guide states in opening space for civil society. Though two amendments were withdrawn, thirteen others had to be defeated one by one in a vote.
Ultimately, 32 states voted in favour of the resolution as a whole, 7 states voted against it, and 9 abstained. It is concerning that the resolution lost the consensus support it previously enjoyed, since the concerns it expresses and advice it gives states are wholly grounded in international human rights law, and are mostly based on previously agreed UN language.
Ghana, Botswana and Togo were among the states that voted resoundingly against the amendments and in favour of the resolution as a whole, taking a strong stance in favour of civil society. Within the Africa group, it was disheartening to see democracies such as South Africa support the amendments and vote against the resolution as a whole, and for Kenya to abstain.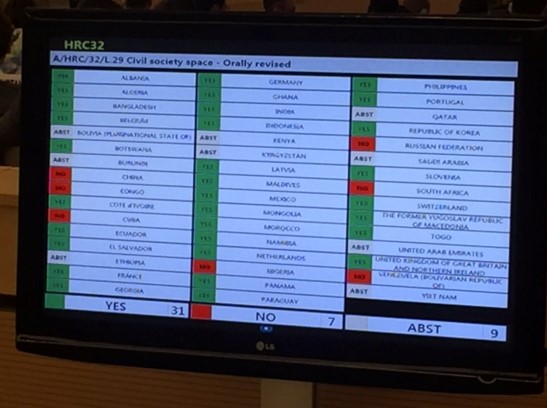 The High Commissioner's global update indicated the wide range of countries in which civil society actors are under threat. A thematic resolution of this sort will only have an impact if states act on it to change the situation on the ground. This requires that states ensure their national laws, policies, and practices conform to these standards, seeking the guidance of HRC mechanisms in this regard. Most pressingly, it requires the HRC and states to respond to country situations where civil society actors are most at risk and require urgent assistance.
Read more:
Sexual orientation and gender identity
The resolution on "protection against violence and discrimination based on sexual orientation and gender identity" established for the first time in the history of the UN an Independent Expert to fill this protection gap.
ARTICLE 19 joined over 600 organisations supporting the creation of the UN mandate, emphasising that it will be essential to address the violations and abuses lesbian, gay, bisexual, transgender (LGBT) and intersex people face in exercising their free expression rights.
The Independent Expert, to be appointed later this year, will report annually to the HRC on violence and discrimination against LGBT and intersex people. They will also be able to engage with states to highlight best practices and encourage reforms to prevent and redress human rights violations and abuses against LGBT and intersex people.
The resolution was the initiative of a Latin American core group of Argentina, Brazil, Chile, Colombia, Costa Rica, Mexico and Uruguay. It was adopted by vote: 23 states voted in favour; 18 voted against; six states abstained.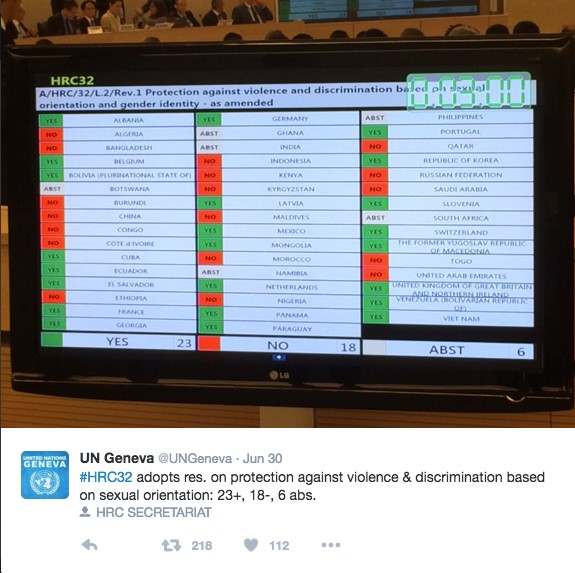 However, the resolution faced significant opposition, with challenges to universality bearing similarities to attacks on a resolution on artistic expression at the HRC last year.
Firstly, a "no action" motion to adjourn the debate, tabled by Russia, sought to shutdown debate on the resolution from the beginning. Fortunately, this was rejected by a vote of 22 against, 15 in favour, and 9 abstentions.
Secondly, the resolution faced 11 hostile amendments from Pakistan on behalf of the Organisation of Islamic Cooperation states (minus Albania). Voting in turn on these took several hours. Amendments seeking to deprive the resolution of all meaning, including by deleting all references to sexual orientation and gender identity, were rejected. However, seven amendments were adopted by vote, inserting to the preamble of the resolution language that undermines the universality of human rights and gives cover to states that disregard international human rights law. Though this was unfortunate, the amendments did not affect the operative parts of the resolution determining the scope and purposes of the independent expert's mandate.
What followed was a series of last-ditch procedural attempts to delete the title and substantive paragraphs of the resolution that amendments had failed on. Each of these attempts was rejected by vote, leaving the resolution intact.
The seven Latin American countries leading this initiative must be congratulated for this achievement, as well as all the other member states on the continent and beyond that voted in favour of the resolution. The mandate will play an important role in ensuring an end to violence and discrimination against LGBT and intersex people, including by keeping the issue on the HRC agenda for years to come.
It is therefore disappointing that South Africa also took a disappointing stance on this initiative, forcefully criticising the core group and abstaining on the resolution. The arguments they advanced contradicted their own constitution's protections against discrimination based on sexual orientation, and their previous leadership on the first SOGI resolution at the HRC.
While there is a long way to go, the establishment of an Independent Expert is an important and significant step in the right direction. We look forward to the new mandate holder working closely with the Special Rapporteur on freedom of expression, to ensure any attempts to silence, marginalise, and deny information to LGBT and Intersex people are challenged and defeated.
Read more:
Renewing the mandate on freedom of assembly and association
Another significant victory came with the renewal of the mandate of UN Special Rapporteur on freedom of peaceful assembly and of association for three more years.
The resolution renewing the mandate was adopted by consensus, and invites the Special Rapporteur to address professional associations (such as journalists' syndicates, or lawyers' associations) in future reports.
The current mandate holder, Maina Kiai, who has been in the post since 2010, has done groundbreaking work to address the protection gap regarding association and assembly rights at the international level. The Special Rapporteur has led the way in ensuring these standards are open and accessible. Maina's mandate will conclude in March 2017, when his successor will be appointed. Ensuring strong candidates who are capable of carrying forwards his work put themselves forward for the role is essential.
Read more:
Looking ahead to future sessions
Our advocacy at the Human Rights Council also looked forward to future sessions.
In an event co-hosted with the lead states on the safety of journalists resolution (Austria, Brazil, France, Greece, Morocco, Qatar, and Tunisia) and key civil society partners, we examined what more must be done to protect journalists worldwide. A new resolution is expected on this issue at the 33rd Session of the HRC in September. Alongside David Kaye this included Frank La Rue of UNESCO, Malgozata Pek of the Council of Europe, and Gayathry Venkiteswaran, an expert on safety of journalists in the South East Asia region.
Participants agreed that while standard setting in the field of safety of journalists is already quite comprehensive, implementation was the challenge. Nevertheless, issues around digital security, encryption and source protection, as well as abusive legal frameworks and gender-based attacks against journalists, were among the issues participants hoped could be added to future resolutions. Participants also discussed how we must take stock of existing international and regional mechanisms to ensure the safety of journalists, to improve their effectiveness and coordination between them.
During the session, we also joined the governments of Norway and Mexico to discuss the importance of access to information to human rights, including achieving the 2030 agenda for sustainable development, fighting corruption, ensuring accountability. The good practices explored included the Open Government Partnership and Aahrus Convention, but there are also challenges in the implementation of access to information. Among these were the over-classification of information and over-broad exemption policies to disclosure, weak whistleblower protections, and difficulties in ensuring access to information held by private entities. All participants agreed that further attention to this issue at the HRC was necessary.
Find more on
Receive immediate or weekly updates on the right to freedom of expression
Subscribe
rt @osfarabregion: happy #righttoknowday #tunisia's new information law ...
@freespeechdaily