Africa programme
Henry Omusundi Maina
Director, ARTICLE 19 East & Horn of Africa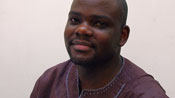 Henry worked in the human rights sector for 10 years before coming to ARTICLE 19 in 2008, specialising in criminal justice and human rights education at the Legal Resources Foundation. He also has expertise in advocacy and governance. Henry is skilled in programme management and fundraising, and has a masters degree in international development, law and human rights from Warwick University in the UK.
Fatou Jagne
Director, ARTICLE 19 Sénégal/West Africa
Fatou joined ARTICLE 19 in 2002 and worked in Johannesburg until moving to Senegal in 2004. Fatou was a fellow at the Institute for Space and Communication Law (IDETCOM) in Toulouse, France from 1997 to 1998. From 1999 to 2002, she was part of the first legal team of the Institute for Human Rights and Development in Africa and started the first compilation of decisions of the African Commission on Human and Peoples Rights. Fatou is a co-founder of the Coalition of Human Rights Defenders and the Foundation for Legal Aid Research and Empowerment in the Gambia and holds a Bachelor Degree in civil Law and a Master (LL.M) in Communication Law from the University of Social Sciences Toulouse 1 in France and is currently undertaking a PHD in International Law.
Bruno Menzan
ARTICLE 19 Sénégal/West Africa Programme Assistant Senior
Before joining ARTICLE 19 in 2011, Bruno has being affiliated to the Faculty of Law of the University of BOUAKE since 2009 as Researcher. He equally worked with the United Nations Office of the High Commissioner for Human Rights (East Africa Office in Addis Ababa). Bruno holds a Licence and a Maîtrise in Public Law from the University of BOUAKE in Côte d'Ivoire and has a Master (LLM) in Human Rights and Democratisation from the Centre for Human Rights, Faculty of Law of the University of Pretoria in South Africa. Bruno is expert on the mechanisms of the African Human Rights System and has expertise on Gambian media environment and security/safety for journalists in the West African region.
Hillary Onami
ARTICLE 19 East & Horn of Africa Program Assistant – Right to Information
Hillary joined ARTICLE 19 in August 2011 as a research assistant and has since endeavored to enhance right to information across the East African region. He previously worked as a Program Associate at Policy House Kenya, Card Sales Representative in Kenya Commercial Bank and volunteered with UNDP/UNV as a trainer and facilitator. He holds a Bachelors degree in Economics & Sociology from the University of Nairobi, Certified Public Accountant (CPA1) professional qualification and currently completing Master degree in Public Policy and Administration. He is also a Certified Trainer of Micro-Finance Distance Learning Course. His current interests are in Public Policy processes, governance and Human Rights Development issues.
Khadidiatou Diaw
ARTICLE 19 Sénégal/West Africa Programme Assistant Senior
Khadidiatou joined ARTICLE 19 in April 2011 as an intern and then Programme Assistant since October 2011. Prior to joining ARTICLE 19 Khadidiatou interned for the French Red cross. She Holds a Master degree in Diplomacy and strategic negotiations from the University Paris XI ; Faculty Jean Monnet, France; and Maitrise ( Masters degree) in Public Law, specialised in Public administration from the University Cheikh Anta Diop, Dakar Senegal. Khadidiatou has developed expertise on Access to information and assisted in building partnerships in Senegal, she has coordinated the work of the national coalition on access to information. She is currently working on supporting women political participation in Senegal and sector application of access to information.
Paul Kimumwe
ARTICLE 19 East & Horn of Africa Senior Programme Officer - Freedom of Expression
Paul Kimumwe has over nine years experience in Communication for Social Change with particular interest in freedom of expression and the media, human rights, adolescent and maternal health and HIV/AIDS. Before joining ARTICLE 19 in May 2012, Paul was the Programmes Director at Twilight Media Research Center in Uganda. Before that, he worked with Panos Eastern Africa, as the Regional Programme Coordinator for the Health Programme; Programme Assistant for the Media Development and Pluralism Programme at Panos. He holds a Postgraduate Diploma in Journalism and Communication, and a Bachelors degree in Mass Communication from Makerere University in Uganda.
Aliou Niane
ARTICLE 19 Sénégal/West Africa Programme Officer - Safety and protection
Prior to joining ARTICLE 19 in 2013, Aliou worked for 4 years as a journalist in one of the leading weekly newspaper La Gazette writing on topics touching on a wide range of issues including politics, economics and international politics, freedom of expression and human rights among others. He worked as a communication consultant for Oxfam America in the extractive industry program dealing among other things with the right to access to information of local communities on the negative impact of mining industries. Aliou worked also for other NGOs as a consultant and translator. He holds a degree in journalism and communication (ISSIC, Dakar) and a Certificat de Maitrise in English and a Maitrise in Arabic from the University of Dakar.
Khady Diallo
ARTICLE 19 Sénégal/West Africa Programme Officer
Khady Diallo joins ARTICLE 19 in October 2013; she holds a bachelor degree in International Affairs and a Master on Management of Development Projects from University Paris XI.
She works on Female Genital Mutilation (FGM) and on Street Children with UNICEF and on Egypt UPR under the Convention on the Rights of the Child in 2008.
With Osiwa Senegal, she was involved in the Public Interest Litigation project with West African Bar's associations. She worked on capacity building and trainings for Senegal Bar members on project management skills, meaning designing, implementing, budgeting and monitoring of project. She also assist in implementing and monitoring of others running projects under the supervision of the Special Initiatives Manager.
During the past 2 years she worked with the International Food Policy Research Institute (IFPRI), as Program Assistant and Executive Assistant, and supported in implementation and monitoring of projects and research programs.
Senior Programme Officer - Freedom of Expression*
ARTICLE 19 East & Horn of Africa
Collins Mudho
ARTICLE 19 East & Horn of Africa Finance and Administration Officer
Collins Mudho joined ARTICLE 19 in October 2012 and holds Bachelor of Commerce (Accounting Option), Certified Public Accountant. He has broad experience in Finance, Grants, Administration and Budget Management of major Multilateral Donors ( USAID, ECHO, EC) etc, Ability to establish and sustain effective interpersonal and professional relationships with agency representatives, government officials, peers and donor organizations, Strong training skills to effectively transfer working knowledge of regulations, policies and procedures through formal or informal training activities, Knowledge and understanding of multilateral and other major donors policies, procedures or regulations for program implementation, Negotiation, implementation and management of contract and grant administrative policies and procedures to ensure compliance, Procurement management and tender preparation, evaluation, negotiation, contracting and monitoring, Strong analytic skills to successful perform financial reviews, Strong computer skills in MS Office, MS Project Management and Quick Books Financial system.
Sandra Musoga
ARTICLE 19 East & Horn of Africa Senior Programme Officer, Access to Information
Coumba Gueye
ARTICLE 19 Sénégal/West Africa Office Administrator
Office Assistant*
ARTICLE 19 Sénégal/West Africa
Administrative Assistant*
ARTICLE 19 East & Horn of Africa
*Names witheld for security.
Receive immediate or weekly updates on the right to freedom of expression
Subscribe
rt @ifex: infographic: the iranian recipe for online repression - http://t...
@article19org
Donate
Help us support lorem sit ipsum dolor amet
Your donation dummy text about what their money does.
Donate